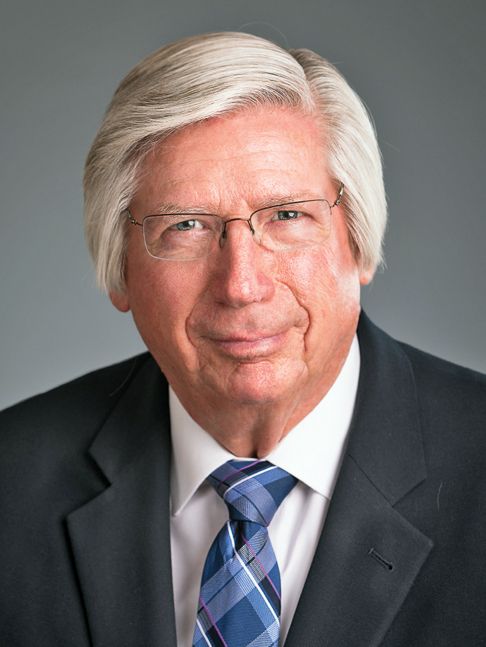 Blain Fowler - Publisher
The Camrose Booster was launched by Blain's parents, Bill and Berdie Fowler, in November of 1952. Within a few months, nine-year-old Blain was given a paper route and he has been with the business ever since. Promotions were not rapid, but new responsibilities were assigned in a logical sequence. By age 12, Blain worked after school and Saturdays, doing janitorial work and odd jobs around the shop, including the messy task of cleaning out five-gallon ink pails that were re-purposed as garbage cans throughout the office and shop. Remarkably, two of these pails are still in use in the back shop, some 65 years on!

Blain literally grew up in the plant, finishing commercial printing jobs, running the presses, working in the photo lab, opaquing and stripping negatives and burning printing plates, before moving into the front office to accounting and news-gathering, and finally venturing forth as a sales representative. This trade experience culminated in being offered the opportunity to join the company as a one-third owner in 1966, and graduating to 100% ownership, and the Publisher's chair, ten years later. At that time, his dad chose to retire, but his mom carried on as editor of The Booster until her death in 2013, at the age of 93.

Although the company provides many products and services to its customers, our flagship offering continues to be The Camrose Booster, a community newspaper.

From the very beginning, its role has been to build community spirit and provide a positive selling atmosphere for our advertisers. A unique feature of The Booster is that the front page is devoted to a community event each week. The only qualifications are that this must be an event in the future and that the cover photo must include people. Regarding the editorial content, only original local news is published and features that readers cannot get anywhere else. Because we know and understand our purpose, we do not venture into national or provincial reporting, which we leave to other publications.

Our strength has always been our loyal, well-trained and capable employees. Blain's four-point strategy to build a winning team is to employ the very best people available; provide each person with the proper training and tools to do the job; compensate and treat each person fairly; and then stand back and let them go to work. This strategy has worked well for the Booster, as more than half of the staff has been with the company for over 15 years, several members for much longer.
This continuity has allowed the Booster team to function exceptionally well.

Perfection consists not in doing extraordinary things, but in doing ordinary things extraordinarily well, and perfection is what the Booster team has been delivering for years. We are members of  the most respected publishing organization in North America: The Association of Free Community Papers with headquarters in New York. The organization holds an annual competition for excellence in graphic design in a variety of categories, cover design, photography, news writing, and other areas specific to newspaper publishing. The Camrose Booster has received awards in this international competition consistently over the years, including "Best of Show".

Booster distribution is audited by the Circulation Verification Council in St. Louis, Missouri, a company that audits over 4,000 similar publications throughout North America. This company has awarded "Gold Standard" status to the top one percent of audited publications based on receivership, readership and the publication's ability to influence buying decisions. The Camrose Booster received this award for seven of the eight years that it was offered. This recognition reflects the loyalty of our readership and the dependability of our distribution system.

Our distribution system is accredited by the Alliance for Audited Media in accordance with criteria established by Flyer Delivery Standards of Canada. This is no small feat for a small publication in rural Alberta and an exceptional achievement for our Circulation Manager and our team of inserters, carriers and drivers.

Blain is very proud of each and every member of this exceptional group of people.

The Camrose Booster is the most effective and economical advertising medium in East-Central Alberta and we are thrilled to be YOUR marketing partner!